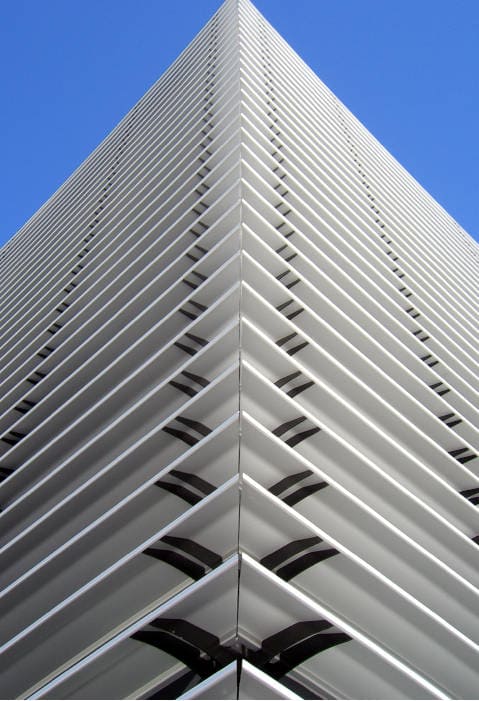 The UPF-200 louver blinds are included in the large-size sunscreens, allowing any installation to have a clearer vision of the outside, thanks to the wider pitch between blades, without loosing sun shading effectiveness. Its sleek looking, hides a best-performance product that can be a  perfect tool for unique looking projects seeking a new scale of proportion. Available in a wide range of angles, materials, and special solutions, its one of our best solutions for green building, thanks to it's material efficiency and very low environmental impact (ISO14001 certificated).
UMBELCO patented aluminium louvers model UPF-200, consisting of 200×28 mm double reflection surface slats, supported by pre-punched extruded aluminium profiles in its exact inclination and pitch. Slats produced from continuous painted aluminium band (by COIL COATING process), high weather resistance by  salted fog test (more than 400 hours in WEISS SSC 450 chamber ). Even pp direct fastening, assembly and cleaning
Features

Aluminium, 7.9 inches wide, "S" shaped, fixed louvers with aluminium square pre-punched brackets, at its exact inclination (25º,45º, 60º and 90º as standard), with our patented screws-less click-on clipping system. Standard colours are RAL9006 and RAL9010, but any other RAL colour is possible under request, even with one colour per side of the slat.
The slats can be perforated or in two different colours (one on the inside of the slat and one on the outside), and installed horizontal, vertical, or in canopy position. The UPF-200 can be framed, and the frames can be fixed, sliding, hinged, and vertical or horizontal foldable.