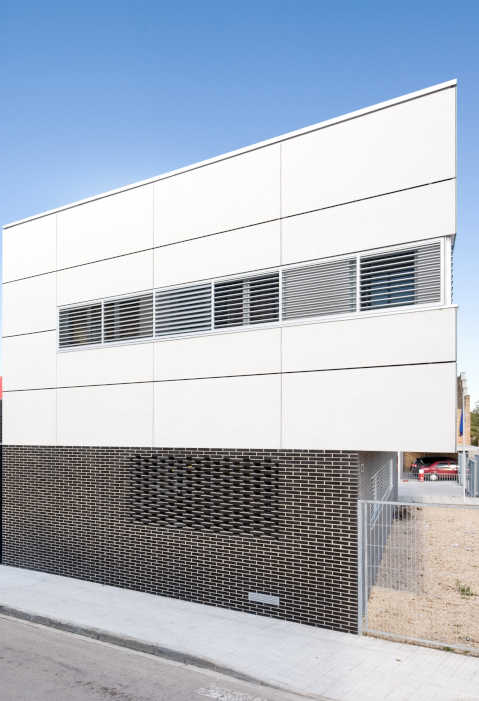 adjustable louvers UPO-105
The UPO-105 are within our small adjustable louvers range, and are an excellent way to achieve effective, yet discreet, sunscreen protection. The UPO-105 was conceived to provide an effective sun shading in small hollows or a perfect solution to projects with high-privacy requirements without loosing the perception of high quality product.
It has become more and more popular in combination with both the UPR-105 and the UPF-105 for the advantages of mixing those three highly technical specialized products without varying the façade of the building.
UMBELCO patented aluminium louvers model UPO-105, composed of horizontal / vertical adjustable slats fitting together, with a diamond shape of 105 mm wide, 20 mm thickness. PV4-high-strength classification according to UNE 85-226-87 and UNE 85-227-87. Continuous painted aluminium band (by COIL COATING process), high weather resistance by salted fog test (more than 400 hours in WEISS SSC 450 chamber ). Polyamide end caps (nylon) with high resistance aluminium pivot axis (6 mm) and housed in extruded aluminium frame, anodised or painted. Manual drive/electric, even pp of fasteners , assembly and cleaning.
Features

This brise soleil is composed by adjustable slats, diamond shaped, able to get up to 100 inches in one piece, and available both with manual or electric handling. Standard colours are RAL9006, RAL9010, RAL7012 and RAL1015, but any other RAL colour is possible under request, even with one colour per side of the slat. Perforated slats are also available under request.
The slats can be installed horizontal, vertical, or in canopy position. Frames can be fixed, sliding, hinged, and vertical or horizontal foldable.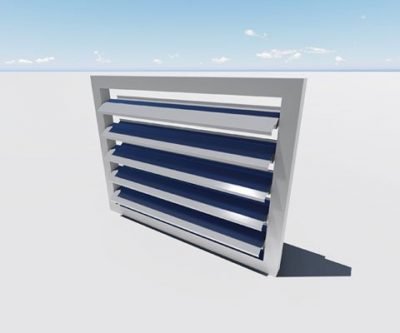 adjustable louvers | UPO 105