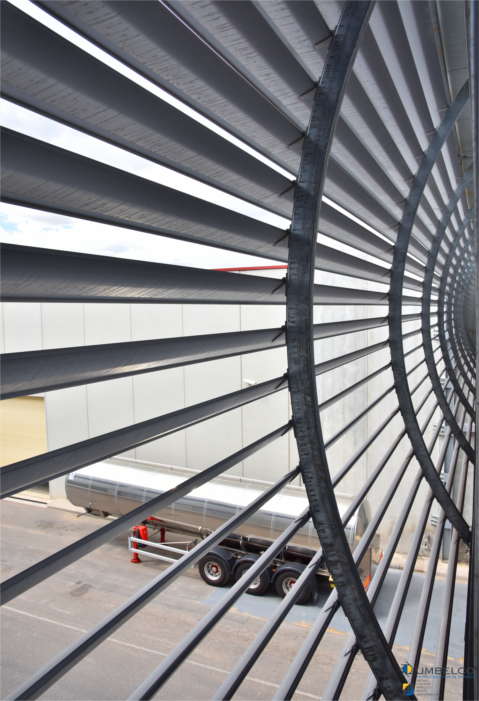 The UPO-150 is not only the base of our whole range, but also our most successful product. It has the best combination among performance, resistance and price of our small-medium range of louvers and its characteristics are second-to-none in any other equivalent in the market. Weighting 7kg/m², its able to get up to 330cms one-piece-long slats, and it's flexible enough to serve not only as louver, but also as a safety element (UPO-150 Safety). Its perfect combination with both the UPF-150 and the UPR-150 has allowed Umbelco to achieve some of its most efficient projects in sun shading.
UMBELCO patented aluminium louvers model UPO-150, composed of horizontal / vertical adjustable slats fitting together, with a diamond shape of 150 mm wide, 30 mm thickness. PV4-high-strength classification according to UNE 85-226-87 and UNE 85-227-87. Continuous painted aluminium band (by COIL COATING process), high weather resistance by salted fog test (more than 400 hours in WEISS SSC 450 chamber ). Polyamide end caps (nylon) with high resistance pivot axis (8 mm) and housed in extruded aluminium frame, anodised or painted. Manual drive/electric, even pp of fasteners , assembly and cleaning.
Features

UPO-150-CLIP aluminium paralel disposed slats, cliped with special designed clips, available in different inclinations (45º, 60º, 90º as standard), with a wide range of aluminium or steel brackets. Standard colours are RAL9006, RAL9010, RAL7012 and RAL1015, but any other RAL colour is possible under request, even with one colour per side of the slat.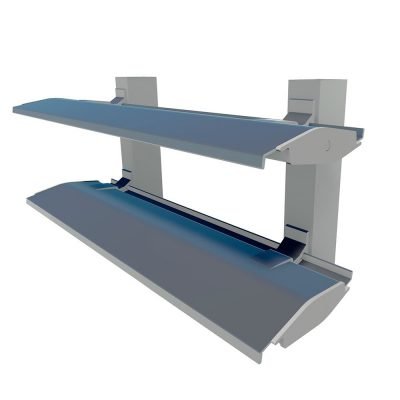 Fixed louvers | UPO 150 with clips