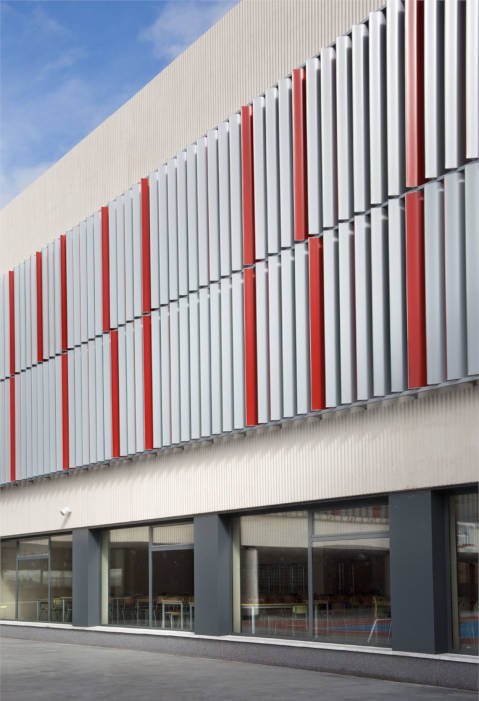 adjustable brise soleil UPO 350
The UPO-350 is the smallest of our patented "eye-shaped" slats. With stylized design, an impressive performance and innovative solutions, Its a perfect solution for any representative façade in need of a efficient sun shading that does not waive the most elitist look. Improving the protection of any building by using its steel slats, setting a new scale of proportions by using the extra length of its blades, or providing a dynamic-changing look by using its two-colours slats, the UPO-350 is ready to be the tool that makes any project unique.
UMBELCO UPO-350 aluminium / steel made louvers, composed of elliptical shaped, 350mm wide 70mm thick adjustable slats. PV4-high-strength classification according to UNE 85-226-87 and UNE 85-227-87. Continuous pre-painted aluminium / steel pre painted band (by COIL COATING system), high weather resistance by salted fog test (more than 400 hours in WEISS SSC 450 chamber).High resistance polyamide end caps (nylon) with 10mm diameter aluminium pivot axis, housed in extruded aluminium frame, anodised or painted. Manual drive/electric, even pp of fasteners, assembly and cleaning.
Features

The UPO-350 brise soleil is composed by adjustable slats, tapered shaped, able to get up to 175 inches in one piece, and available both with manual or electric handling. Standard colours are RAL9006 and RAL9010, but any other RAL colour is possible under request, even with one colour per side of the slat. Perforated slats are also available under request.
The slats can be installed horizontal, vertical, or in canopy disposition.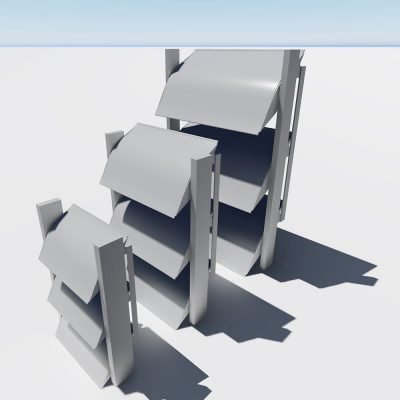 adjustable brise soleil | UPO 350