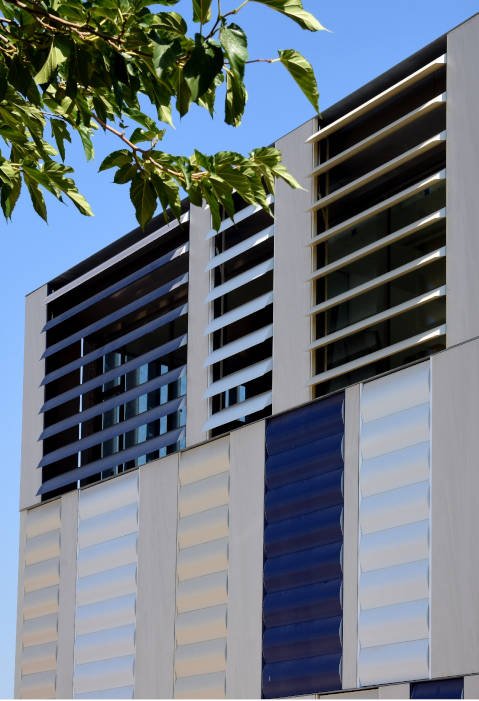 adjustable brise soleil UPO 480
The UPO-480 is our recommendation for big sized projects, where it size, resistance and advanced features can make each design unique. Options like one colour per side, different composition of the blades (aluminum, zinc, steel etc..) or even two perforated sides of the slats are unique on its class, and are perfect to take any project to it's next level, while it's still on a budget.
UMBELCO UPO-480 aluminium / steel made louvers, composed of elliptical shaped, 480mm wide 96mm thick adjustable slats. PV4-high-strength classification according to UNE 85-226-87 and UNE 85-227-87. Continuous pre-painted aluminium / steel pre painted band (by COIL COATING system), high weather resistance by salted fog test (more than 400 hours in WEISS SSC 450 chamber).High resistance polyamide end caps (nylon) with 10mm diameter aluminium pivot axis, housed in extruded aluminium frame, anodised or painted. Manual drive/electric, even pp of fasteners, assembly and cleaning.
Features

The UPO-480 brise soleil is composed by adjustable slats, tapered shaped, able to get up to 195 inches in one piece, and available both with manual or electric handling. Standard colours are RAL9006 and RAL9010, but any other RAL colour is possible under request, even with one colour per side of the slat.
The slats can be installed horizontal, vertical, or in canopy disposition.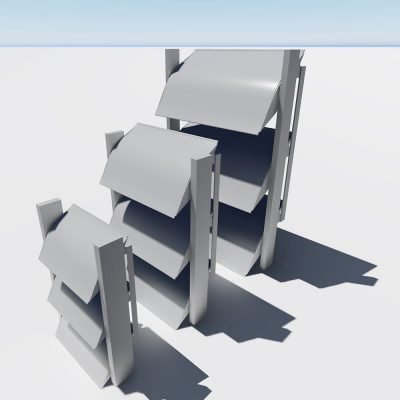 adjustable brise soleil | UPO 480