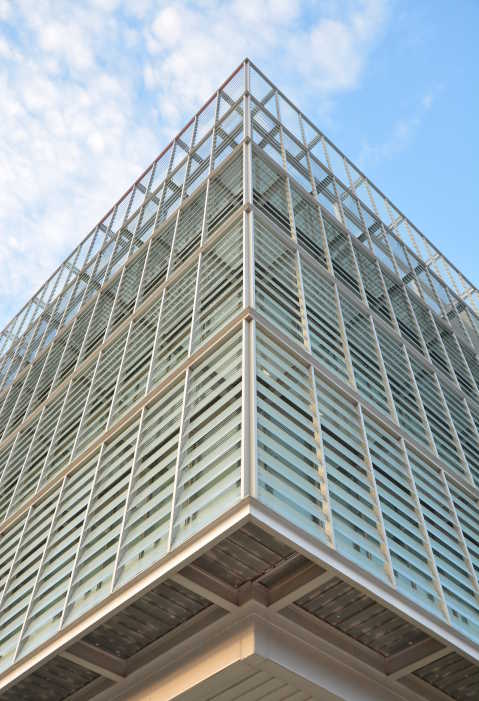 adjustable glass louvers UPV
The UPV adjustable louvers are our main glass-made product range. Avaliable from 25cms and up to 48cms wide slats, it's not only a product built to last, but also a great design resource, available with most of the possibilities glass can offer nowadays. With special attention in safety, resistance, and sharp design, it's perfect as a second-skin protection, ventilation friendly, aligned with the most modern architectural trends.
UMBELCO adjustable tempered glass made slats UPV-300,400… model, composed of horizontal / vertical 300, 400, .. Mm wide. 8, 10 … mm thick and 120 N/mm2 tensile strength. Smooth surface finish / printed. Painted metal alloy ends caps and minimum strength 300 N/N/mm2 . Metal pivot axle diameter 12 mm and nylon bushings. Support structure of anodised extruded aluminium or painted. Manual drive/electric even p.p. fasteners directly to site, installation and cleaning.
Features

The tempered flat glass made slats are 9, 13, 17 in wide and 0.31, 0.39.. in thick, with zamak casting end caps, housed in an aluminium frames.
The slats can be installed horizontal, vertical, or in canopy disposition.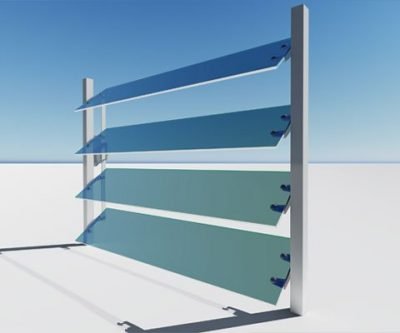 adjustable glass louvers | UPV